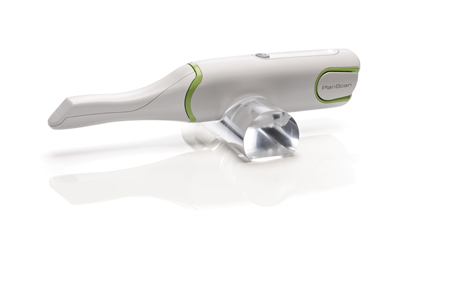 Digital Impressions and 3D Imaging
Anyone who has had to have impressions of your teeth taken knows that it is not a pleasant experience. The impression material is pressed over your teeth in a tray and you have to endure that uncomfortable feeling for what seems like an eternity until it hardens enough to create the impression.
Viva Dental Studio no longer uses this method of taking an impression for restorations like crowns, inlays or implants. We now use an advanced 3D intraoral scanning technology called Planscan Romexis.
The Planscan Romexis Scanner eliminates the need for the goopy, gagging, impressions of the past. The unique laser scanner head fits easily into the mouth and scans with over 100,000 points of reference. This in turn gives us extremely accurate 3 dimensional digital images of the teeth allowing us to create better fitting restorations.
The Planscan Romexis Scanner reduces appointment times by up to 22% and eliminates the need for return appointments due to inaccurate impressions.
It also allows us to provide real-time visualizations for our patients to help them understand how we will restore the damaged tooth/teeth and we can even show them what their teeth will look like after the restoration.
Lasers For Dentistry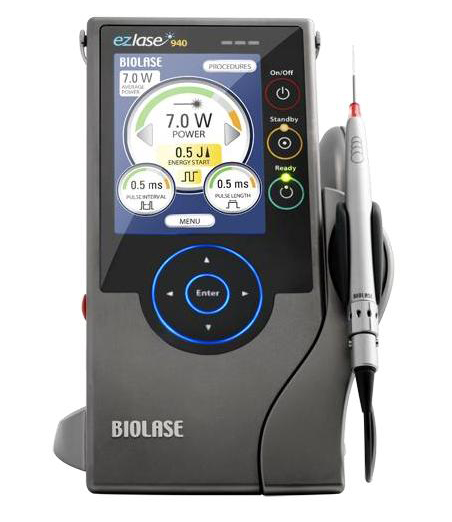 Dental laser use has proven to be a comfortable and predictable way to treat various oral ailments. By using a dental laser we are able to assist with healing in gingivitis and periodontitis. As well, cold sores (herpes simplex), canker sores and denture sores can be treated during your appointment so you can leave pain-free and assist with the healing process. It has been shown through studies that when cold sores are treated 2-3 times with the laser, they will not return again to the same site. Besides oral disease, dental lasers can be used in the mouth for many other dental applications such as: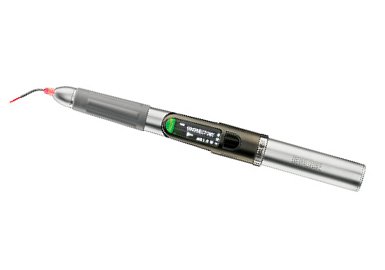 treatment of gingivits and periodontitis/periodontal disease
assists in healing of split lips (from dryness)
canker and cold sores
denture sores
oral lesions/pain due to radiation or chemotherapy
lichen planus
tongue tie/frenum attachment(s)/frenectomy
gum tissue contouring and smile contouring
tooth exposure prior to orthodotics
removal of excess gum tissue around teeth
dental implant exposure
biopsy of oral tissue/removal of oral lesions
amalgam tattoo removal
pigmentation removal
sterilization of pocket after removal of a tooth
draining dental abscesses
Intra-Oral Cameras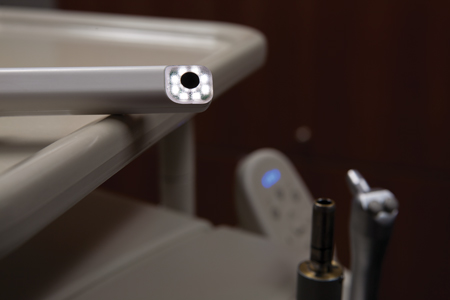 At Viva Dental Studio we have a piece of equipment to help you better understand your dental health. It's called the intra-oral camera, which is really just a tiny video camera that looks like a pen. It connects to our computer system and links to the screen in front of you. The main advantage of the intra-oral camera is that we can show you what condition your teeth are in, or what we are doing with your teeth.
The intra-oral camera is a sterilized small probe that can easily be moved around the inside of your mouth. It provides you with a tooth by tooth video exam of your teeth so you can see your teeth enlarged in living color on the TV screen. We can freeze and store the picture of the inside of your mouth for a bigger and better look and then take an instant photograph of you for your records.
This painless, no-radiation device works just like any digital camera and allows you to see problems such as worn-out or defective fillings, fractured teeth, decay, bleeding gums and plaque. Together, you and your dentist can discuss the best treatment plan for restoring your mouth to optimal health.
The intra-oral camera is a tremendous educational tool which shows you what is going on with your teeth … rather than your dentist merely trying to describe it to you in words!